PAINTBALL MADRID
Play paintball in Madrid in the largest fields in Spain
with GRAN PAINTBALL MADRID
The best Paintball Gear
Markers and equipment that no other fields have
(Premium competition gear)
Customer reviews
Gran Paintball Madrid, the best rated paintball field in Spain.
Location
Public bus stop right at the door.
(25 minutes from downtown Madrid)
Barbecue
Barbecue and various food options

Come to Gran Paintball Madrid to spend an unforgettable day in the best paintball field in Madrid!
We have the best equipment of any field in Spain; We have BRAVO ONE TACTICAL markers, true replicas of the M16, as well as Tippmann X7 PHENOM electronic markers, with air compression system integrated in the belt, thermal anti-fog double lens masks, etc. Do not be fooled, if you really want to enjoy the best Paintball in Madrid, and with some highly competitive teams, call us or send us a WhatsApp and we will give you all the information without any commitment. All this, of course, within reach of any pocket!
Gran Paintball Madrid is located just 25 minutes from Madrid on the A-6, with a direct and very simple access. And yet it is the few paintball fields in Madrid with a completely natural environment; 150,000 m2 distributed in 9 huge fields (one of them the largest field in Spain, with more than two hectares) so you can enjoy an unforgettable day surrounded by nature, and in one of the most beautiful environments in Madrid. In the best paintball fields in Madrid you will not find scenarios full of meaningless obstacles, but you can hide among the more than 400 trees (ash, oak, etc.) and natural obstacles so you really feel that you are in full battle !
Enjoy with your family a day that we guarantee you will not forget! Check our offers, ask us for our famous Super Barbecue, and ask us for a personalized quote without any commitment.
We offer bachelor parties (with multiple surprises), sports and multi-adventure activities in Madrid (archery, gymkhanas, olympics), laughter therapy, as well as activities especially aimed at children.
Participate in our great Paintball and Airsoft wars in our fields of more than one hectare!
Are you a company? Increase leadership and consolidate the teamwork of your workers through our skills development or Team Building. Ask us about the different packages for companies, and get your team to improve in strategy development, planning, results orientation and work and personal development.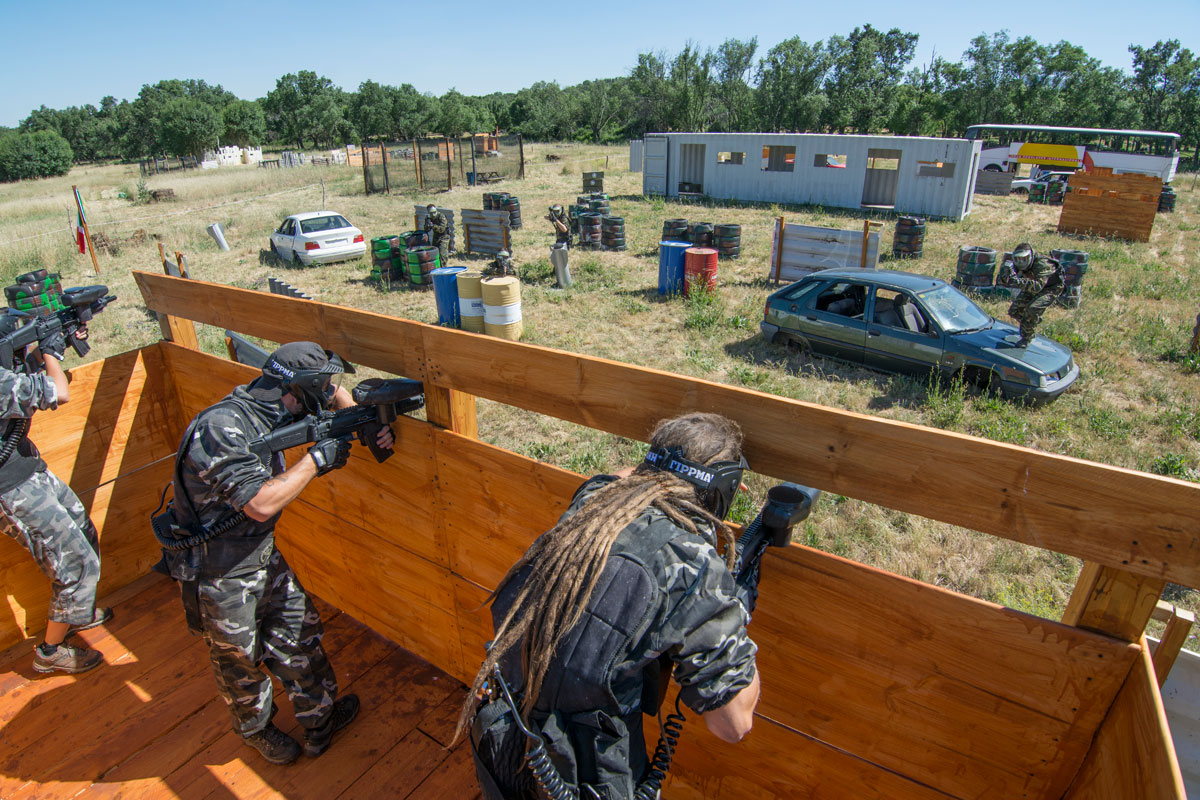 WHAT IS PAINTBALL?
Paintball is a team sport that is played outdoors or in themed scenarios, in which there are two teams that shoot biodegradable paintballs with compressed air markers (paintball guns), equipped with overalls, gloves, masks and camouflage bibs to protect themselves and consists in reaching the opponents to eliminate them.
If the participant's age is between 8 and 13 years old, he will play paintball for children. From 14 years, you can play paintball for adults, which uses markers with compressed air.
In a Paintball session, many short games are played, from 2 to 6 minutes, in different scenarios and with different objectives. You may sound familiar games like Capture the flag, Eliminate the Captain, or Take the Bomb. In our paintball fields we have invented dozens of new and original games that take this game to another level.
Paintball is not the same as Airsoft, although it seems. Especially in Gran Paintball Madrid, the only field that uses M-16 replicas with adjustable stock, scenarios with airplanes, tanks, or helicopters, and huge forests in which to hide and ambush the enemy.
This sport is practiced by clients and groups of friends who want to do a different activity, companies that want to make Team Building Madrid days, birthdays or celebrations, bachelor parties and Multiadventure activities.
Paintball is, in short, a team sport that is played outdoors, in which participants shoot paintballs with compressed air markers, and equipped with overalls, gloves, masks, belts and camouflage bibs to protect themselves .
DIFFERENCES WITH OTHER PAINTBALL FIELDS
We are the largest paintball in Spain , we have 150,000 square meters of land and we have 30,000 square meters of scenarios.
Our markers (weapons) are all high-end, M-16 replicas with adjustable stock and polished barrel. We only use Bravo One Elite and X7-Phenom, the best markers that exist today. Look on the Internet for the huge difference between these weapons and those in the rest of the fields!
We have the best paintball scenarios in Madrid. We don't say it, look at the opinions about us on the Internet to check it out! Airplane, helicopter, tank, missiles, military vehicles, bus, giant containers, boats, towers, forts, huge forests (ideal for hot days), and much more.
The equipment you will receive is unique and not offered by any other Paintball field: we give all participants 100% camouflage equipment with anti-fog mask , jumpsuit with neck protection, gloves, bibs, belts, bracelets, and the latest news in the world of Paintball: remote cable to connect the compressed air bottle from the belt with the marker, making the equipment weigh much less and shots are much more accurate.
HOW TO RESERVE IN PAINTBALL MADRID
To book your game of Paintball you can do it in 3 ways:
1-Calling 636 475 305
2-Sending us a WhatsApp and we will call you
3-Write us an email to info@granpaintballmadrid.es
HOW TO GET TO OUR PAINTBALL FIELDS
We are in the Sierra Norte de Madrid, 25 minutes from Madrid Center, with direct access from the main road and with a public bus at the door.
The bus leaves from Moncloa and takes exactly 35 minutes to arrive, leaving you at the door of our fields.
If you come from Madrid, follow these simple instructions to get there:
1-Drive on the A-6 (4-lane highway) and take exit 47 towards El Escorial.
2-Exit 47 takes you to the M-600. Exactly at 5 kilometers (kilometer 5), where the traffic light, on the left, is the entrance.
MEDIA AND COMPANIES THAT HAVE ALREADY TRUSTED US